For 2018 The Loom Muse Blog has been ranked 6th among the top 15 loom knitting blogs!!!!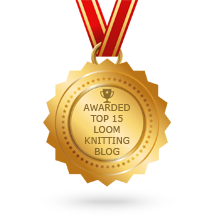 For 2018 The Loom Muse Channel has been ranked 10th among the top 40 loom knitting channels!!!!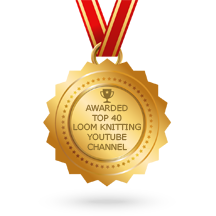 I have plans this year for The Loom Muse Sites!!!!
1. A sale that goes on on Ravelry every month!!!
2. A video on tips and techniques for advancing your loom knitting for designers every month!!!
3. Showing techniques on modular knitting and socks as a focus this year!!!!
4. Product reviews throughout the year!!!
Keep an eye on my blog, facebook, youtube, google+, website, and ravelry!!!! This is the year for advancing your mind to the depths of loom knitting!!!

She has been loom knitting since 2009, starting off like most loomers, she made hats.
Well a friend had suggested she try making a bear, that was it, from that point there is the array of patterns she has created from that suggestion. Just click on the gallery to see the progression of her patterns.
Now she has a growing in popularity youtube channel, blog, and facebook page providing her creations to make your own for free. Check the calendar to see what videos and patterns will be released soon.
She also has a DVD for sale on "How to Loom Stuffed Animals Part1 Bear, Cat, Dog, and Rabbit" Also she will have the Realistic Owl Hat Pattern for sale very soon as well on here and on her ravelry page. There are now a book series in print you can get from Amazon on paperback. The "Loom Knit Classic Patterns for CinDwood Fine Gauge Loom." " Loom Knit Garter Slip Chain" and "Loom Knit Costume Hats"
Newest book available is the "Any Loom, Any Hat, Any Time" book that is using basic math formulas to show you how to make the hats on any loom you wish. No more feeling like you are trapped having to get a specific loom. Designer freedom!!!
3 months of work and it is finally here!!! The "50 Loom Knitted Stuffed Animal Pattern Book" is now available in paperback, ravelry, cindwood, and soon to be Amazon.
She will start selling some of her creations if you aren't great with needle work and love them. Look in the web store to see what is for sale. Please feel free to contact us to ask questions, make requests, or clarify changes in your orders.
Scarlett will be Collaborating with CinDwood Looms by selling patterns on their webpage and she will be using their looms for her patterns. Please support this American company, they have amazing quality looms solid and sturdy with wood base and plastic pegs.
50 Loom Knitted Stuffed Animal Pattern Collection
Ravelry: http://www.ravelry.com/patterns/sources/50-loom-knitted-stuffed-animal-pattern-collection/patterns
Amazon: https://www.amazon.com/Knitted-Stuffed-Animal-Pattern-Collection/dp/1537381458/ref=sr_1_1?ie=UTF8&qid=1474170749&sr=8-1&keywords=50+loom+knitted+stuffed+animal+patterns
CinDwood: https://www.cindwoodlooms.com/product/50-loom-knit-stuffed-animals-pattern-collection/
Any Loom, Any Hat, Any Time
Ravelry: http://www.ravelry.com/patterns/sources/any-loom-any-hat-any-time
Amazon: https://www.amazon.com/Any-Loom-Hat-Time-Knitting/dp/1533223882/ref=sr_1_1?ie=UTF8&qid=1476141388&sr=8-1&keywords=the+loom+muse
CinDwood: https://www.cindwoodlooms.com/product/ebook-any-hat-any-loom/
Loom Knit Costume Hats
Ravelry http://www.ravelry.com/patterns/sources/loom-knit-costume-hats/patterns
Amazon: https://www.amazon.com/Loom-Knit-Costume-Scarlett-Royale/dp/1515162265/ref=sr_1_5?ie=UTF8&qid=1476141479&sr=8-5&keywords=scarlett+royale
CinDwood: https://www.cindwoodlooms.com/product/ebook-loom-knitted-costume-hats/
Loom Knit Garter Slip Chain Patterns
Ravelry: http://www.ravelry.com/patterns/sources/loom-knit-garter-slip-chain-patterns
Amazon: https://www.amazon.com/Loom-Knit-Garter-Chain-Patterns-ebook/dp/B01A01R9UW/ref=sr_1_2?ie=UTF8&qid=1476141388&sr=8-2&keywords=the+loom+muse
CinDwood: https://www.cindwoodlooms.com/product/ebook-loom-knit-garter-slip-chain-patterns/
Classic Patterns for Fine Gauge CinDwood Looms
Ravelry: http://www.ravelry.com/patterns/sources/classic-patterns-for-cindwood-fine-gauge-looms/patterns
Amazon: https://www.amazon.com/Classic-Patterns-Gauge-CinDwood-Looms/dp/1519201400/ref=sr_1_4?ie=UTF8&qid=1476141455&sr=8-4&keywords=scarlett+royale
CinDwood: http://premiumknittinglooms.com/product/ebook-classic-patterns-for-cindwood-fine-gauge-looms/